Welcome to Fall 2020 Research and Study Week. We pray that it is what you need it to be.
Here's a small and selective list of books published in 2020 that have been added to the library's ebook collections recently. The books are arranged in no particular order and I've included a fun activity book at the very end for the children among us 😊. Clicking on the title should get you to the ebook.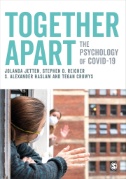 Jolanda Jetten, Stephen D. Reicher, S. Alexander Haslam, and Tegan Cruwys. London : SAGE Publications Ltd. 2020
Written by leading social psychologists with expertise in leadership, health and emergency behaviour – who have also played an important role in advising governments on COVID-19 – this book provides a broad but integrated analysis of the psychology of COVID-19 It explores the response to COVID-19 through the lens of social identity theory, drawing from insights provided by four decades of research. Starting from the premise that an effective response to the pandemic depends upon people coming together and supporting each other as members of a common community, the book helps us to understand emerging processes related to social (dis)connectedness, collective behaviour and the societal effects of COVID-19. In this it shows how psychological theory can help us better understand, and respond to, the events shaping the world in 2020. Considering key topics such as: Leadership Communication Risk perception Social isolation Mental health Inequality Misinformation Prejudice and racism Behaviour change Social Disorder This book offers the foundation on which future analysis, intervention and policy can be built. We are proud to support the research into Covid-19. We are delighted that on publication the finalised eBook will be free. For those who prefer print, it will be possible to purchase a paperback version. All Royalties from this book will be donated to the Save the Children charity. An uncorrected draft of this book was also made available ahead of its publication and you can download the whole thing from here: https://www.socialsciencespace.com/2020/05/addressing-the-psychology-of-together-apart-free-book-download/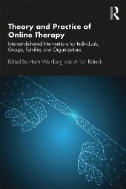 Haim Weinberg and Arnon Rolnick. New York : Routledge. 2020
This innovative new resource outlines the process of conducting individual, family and group therapy online with the use of video conferencing tools, and explores the unique concerns associated with this increasingly popular and convenient approach to treatment. Offering mental health practitioners a definitive presentation on how to use online tools to facilitate psychological intervention, the book will also enable readers to learn about the processes of virtual individual, couple, family and group therapy, specific concerns related to online group dynamics, as well as the responsibilities of the therapist and group leader in online sessions. This is the perfect companion for counselors of all backgrounds and disciplines who are interested in offering or improving their approach to virtual services.
]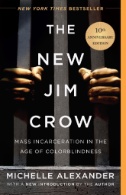 Michelle Alexander. Tenth anniversary edition. New York : The New Press. 2020
Named one of the most important nonfiction books of the 21st century by Entertainment Weekly' Slate' Chronicle of Higher Education' Literary Hub, Book Riot' and Zora A tenth-anniversary edition of the iconic bestseller—"one of the most influential books of the past 20 years," according to the Chronicle of Higher Education—with a new preface by the author "It is in no small part thanks to Alexander's account that civil rights organizations such as Black Lives Matter have focused so much of their energy on the criminal justice system." —Adam Shatz, London Review of Books Seldom does a book have the impact of Michelle Alexander's The New Jim Crow. Since it was first published in 2010, it has been cited in judicial decisions and has been adopted in campus-wide and community-wide reads; it helped inspire the creation of the Marshall Project and the new $100 million Art for Justice Fund; it has been the winner of numerous prizes, including the prestigious NAACP Image Award; and it has spent nearly 250 weeks on the New York Times bestseller list. Most important of all, it has spawned a whole generation of criminal justice reform activists and organizations motivated by Michelle Alexander's unforgettable argument that "we have not ended racial caste in America; we have merely redesigned it." As the Birmingham News proclaimed, it is "undoubtedly the most important book published in this century about the U.S." Now, ten years after it was first published, The New Press is proud to issue a tenth-anniversary edition with a new preface by Michelle Alexander that discusses the impact the book has had and the state of the criminal justice reform movement today.
Handbook of Spirituality, Religion, and Mental Health
David H. Rosmarin and Harold G. Koenig. Second edition. London : Academic Press. 2020
Research has indicated that spiritual and religious factors are strongly tied to a host of mental health characteristics, in both positive and negative ways. That body of research has significantly grown since publication of the first edition of this book 20 years ago. The second edition of the Handbook of Spirituality, Religion and Mental Health identifies not only whether religion and spirituality influence mental health and vice versa, but also how, why, and for whom. Hence 100% of the book is now revised with new chapters and new contributors. Contents address eight categories of mental disorders, as well as other kay aspects of social, emotional, and behavioral health. Provides an authoritative, comprehensive, and updated review of the research on positive and negative effects of spirituality/religion on mental health Contains dedicated chapters focused on the relevance of spirituality/religion to mood, anxiety, obsessive-compulsive, psychotic, eating/feeding, alcohol/substance use, behavioral addictions, and pain-related disorders, as well as marriage/family life, suicidality, and end-of-life-care. Reviews the research on spiritually integrated psychotherapies, and provides basic clinical guidelines for how to effectively address spiritual/religious life in treatment. Reviews the neurobiology of spiritual/religious experiences as they pertain to mental health. Covers all major world religions, as well as spiritual identities outside of a religious context
William H. Willimon. (Working Preacher Books). Minneapolis, MN : Fortress Press. 2020. eBook.
Prolific author William H. Willimon makes the compelling case that two key pastoral tasks--preaching and leadership--complement, correct, strengthen, and inform one another. Preaching is the distinctive function of pastoral leaders. Leadership of the church, particularly during a challenging time of transition in mainline Protestantism, has become a pressing concern for pastors. This book shows how the practices, skills, and intentions of Christian preaching can be helpful to the leadership of a congregation.
Zach Norris. Boston, Massachusetts : Beacon Press. 2020. eBook.
A groundbreaking new vision for public safety that overturns more than 200 years of fear-based discrimination, othering, and punishment. As the effects of aggressive policing and mass incarceration harm historically marginalized communities and tear families apart, how do we define safety? In a time when the most powerful institutions in the United States are embracing the repressive and racist systems that keep many communities struggling and in fear, we need to reimagine what safety means. Community leader and lawyer Zach Norris lays out a radical way to shift the conversation about public safety away from fear and punishment and toward growth and support systems for our families and communities. In order to truly be safe, we are going to have to dismantle our mentality of Us vs. Them. By bridging the divides and building relationships with one another, we can dedicate ourselves to strategic, smart investments—meaning resources directed toward our stability and well-being, like healthcare and housing, education and living-wage jobs. This is where real safety begins. We Keep Us Safe is a blueprint of how to hold people accountable while still holding them in community. The result reinstates full humanity and agency for everyone who has been dehumanized and traumatized, so they can participate fully in life, in society, and in the fabric of our democracy.
N. Scott Amos. (Reformation Commentary on Scripture. Old Testament, IV ) Downers Grove, Illinois : IVP Academic. 2020
The Reformers of the sixteenth century found theological significance in Old Testament narratives such as Ruth's response to her mother-in-law Naomi. In this volume of the Reformation Commentary on Scripture, N. Scott Amos guides readers through a wealth of early modern commentary on the Old Testament books of Joshua, Judges, and Ruth.
A Black Women's History of the United States
Daina Ramey Berry and Kali Nicole Gross. Boston, Massachusetts : Beacon Press. 2020
A vibrant and empowering history that emphasizes the perspectives and stories of African American women to show how they are—and have always been—instrumental in shaping our country. In centering Black women's stories, two award-winning historians seek both to empower African American women and to show their allies that Black women's unique ability to make their own communities while combatting centuries of oppression is an essential component in our continued resistance to systemic racism and sexism. Daina Ramey Berry and Kali Nicole Gross offer an examination and celebration of Black womanhood, beginning with the first African women who arrived in what became the United States to African American women of today. A Black Women's History of the United States reaches far beyond a single narrative to showcase Black women's lives in all their fraught complexities. Berry and Gross prioritize many voices: enslaved women, freedwomen, religious leaders, artists, queer women, activists, and women who lived outside the law. The result is a starting point for exploring Black women's history and a testament to the beauty, richness, rhythm, tragedy, heartbreak, rage, and enduring love that abounds in the spirit of Black women in communities throughout the nation.
Origami: Classic Paper Folding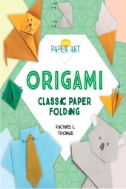 Rachael L. Thomas [Minneapolis, Minnesota] : Checkerboard Library. 2020
Origami will introduce kids to the Japanese art of folding paper into fun creations. They will learn how to make a cat, an ice cream cone, a koala, and more! Easy-to-follow instructions accompanied by how-to photos keep projects accessible for readers brand-new to paper art. The captivating creations are sure to appeal to young crafters everywhere. Aligned to Common Core Standards and correlated to state standards. Checkerboard Library is an imprint of Abdo Publishing, a division of ABDO.
To find more ebooks, please visit the Find Ebooks page on With Much Love, the library portal. Questions and comments may be sent to library@lpts.edu.
Reminder About Library Services During Research and Study Week:
Gift Books to Students – print books you can pick up – continues this week outside the library;
Chat with a Librarian is on Th – Su 5 pm to 10 with new Public Services Librarian doing the honors.
Research appointments and consults can be scheduled during normal Seminary hours this week. Details of all this and always available electronic resources on the library portal, With Much Love. 😊
Here's to a happy, fulfilling, and refreshing Research and Study Week.